Welcome Message From Pastor Farthing…

We would like to welcome you to Hillcrest Baptist Church. We strive to accomplish three things here at Hillcrest:
(1) To make Christ preeminent in all that we do.
(2) To evangelize the community through soul winning, visitation, and prayer.
(3) To send forth laborers into the harvest field.
If you are new in town, or if you are just looking for a church home, then we would love to have you come and join us for worship services!
My desire, as Pastor of Hillcrest Baptist Church, is to be busy about the Lord' s work realizing that the imminent return of the Lord is nigh. I believe that John, in the Book of Revelation, describes most aptly the current status of this present church age… indifference or as the scriptures state "lukewarm".
I hear the voice of II Chronicles 7:14es 7:14
English: King James Version (1611) - KJV
14 Therefore the Lord himself shall give you a sign; Behold, a virgin shall conceive, and bear a son, and shall call his name Immanuel. shall call: or, thou, O virgin, shalt call

WP-Bible plugin stating,"if my people which are called by my name shall humble themselves and pray, and seek my face, and turn from their wicked ways; then will I hear from heaven, and will forgive their sin, and will heal their land." We need revival in our land. Would you join us in prayer for revival?
Thank and may the Lord Bless you.
Pastor Farthing
Pastor Farthing & Family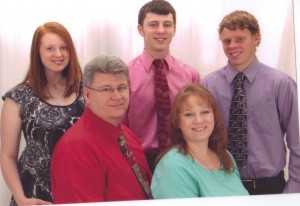 James Matthew Farthing
Wife Laura, Children James 19, Ryan 17, Alyssa 14
Saved By God's Grace 11-02-97


Called to Preach 1999

Colleges attended:  (Piedmont Baptist College) (Carolina Bible College in Concord, N.C.) (Rowan Cabarrus College (Criminal Justice)

Served Honorably in the USMC from December 27, 1987 until September 1995  (Gulf War Veteran)

Police Officer with City of Salisbury from 1997 until 2001
Email address:  pastor@hillcrestbapchurch.org
STATEMENT OF CALL
Shortly after I was saved at age 27, I felt a deep desire to serve God in full-time
service. At the age of 29, after hearing a message on surrendering your life to God,
I went forward and gave my life to Jesus to whatever service He had for me. I began
to feel God's call on my life and after prayer and speaking with my Pastor, God
through His Word, and His Spirit, confirmed that I was called to serve Him
full-time. I entered into College and have been pursuing the ministry since 2001. I
thank God for His calling upon my life! The desire to preach has never left me and
gets stronger each day.
PHILOSOPHY OF MINISTRY
My pastoral philosophy is to love the people in my care and proclaim the Word of God without apology. To be a Pastor is to love and care for the flock of God, not dictate or simply bring a sermon on Sunday and Wednesday.  I preach from the KJV only, and I am a traditional, fundamental, Baptist. Further, I practice and preach Ecclesiastical separation and believe in Soul winning and Visitation as a way of Evangelizing.
---